The Hunters Chalet In The Game Park Hájek
The Price List of Accommodation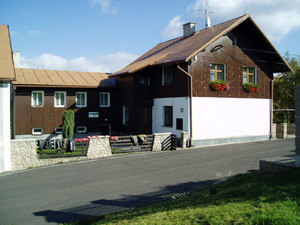 The game park Hájek lies in Podkrušnohoří, 6 kms to the North-East of Karlovy Vary between the communities of Hájek, Velký Rybník and Sadov. It was established in 1969. The size of the game park is 418 ha, of which 287 ha are consisted of forest, 113 ha of meadows, 8 ha of waters (ponds) and 10 ha of other areas. The game park is subdivided into three sections – fallow deer, moufflon, and boar, which are isolated from each other with a separating fence.
The Hunters chalet is part of the operating buildings intended for the service of the game park. There are three double rooms therein (of which one has a TV set + SAT), common lavatory facilities, fully equipped kitchen with a dish washer, and social room with a fireplace. The equipment of the chalet includes the terrace offering the option of sitting, and a garden barbecue grill with a pergola. While having a walk within the game park it is also possible, in addition to observing the animals to sit in the pavilion at the pond.
The location of the game park Hájek allows the visitors to enjoy cycling tourism (a dense network of cycling routes), skiing (ski sites about 10 km), to arrive in Karlovy Vary (spa, medical springs, thermal and swimming pools, the museum of Becherovka….), and Ostrov (an ancient town with a castle and park).
The booking of accommodation is possible 14 days in advance as a maximum (with the priority of the accommodation for hunting guests).
Photo album: